It seems that changing the operating system and losing WhatsApp chats forever is definitely over. Because there was already a way to save them within the system itself to recover them when changing mobile. From Android to Android. From iPhone to iPhone. But what There wasn't a way to transfer chats from Android to iPhone and vice versa. Until now.
After releasing the functionality little by little (first for Samsung, then from Android to iPhone), WhatsApp has officially announced that it is now possible to take chats from one operating system to another without problems. Yes indeed, there are certain conditions that we have to meet such as having a minimum version of the operating system.
So you can transfer your WhatsApp chats from iPhone to Android
We have an iPhone but have fallen in love with an Android phone that just came out, or with an older one on sale. Trouble arrives. How do I transfer the WhatsApp chats that I keep in iCloud to my new Android? Well, WhatsApp has brought us the solution. In fact, he's been bringing it for a while started by Samsung and now it has been enabled for everyone.
If our mobile phone is a Samsung, to transfer the chats from the iPhone we will have to use the Samsung SmartSwitch app, which guides us through the process of transferring chats step by step. We will need to connect the iPhone and our Samsung with a USB cable, yes, so we will need a converter for the Lightning port of the iPhone at least. But the process became easier.
Regarding the current process, which is already operational for all Android mobiles, we will need meet certain requirements:
Have a mobile with Android 12 or later.
Have WhatsApp versions 2.21.1620 (Android) and 2.21.160.17 (iPhone).
Have a USB-C to Lightning cable or the necessary adapters.
That our Android is factory formatted or that it is completely new, ready to configure it.
For now There is no other way that does not include factory reset our Androidso we leave you here a link to the necessary steps to achieve it.
The transfer process is quite simple after connecting both phones with the USB cable. We leave you everything below the link to the process well detailed.
Transferring WhatsApp chats from your Android to iPhone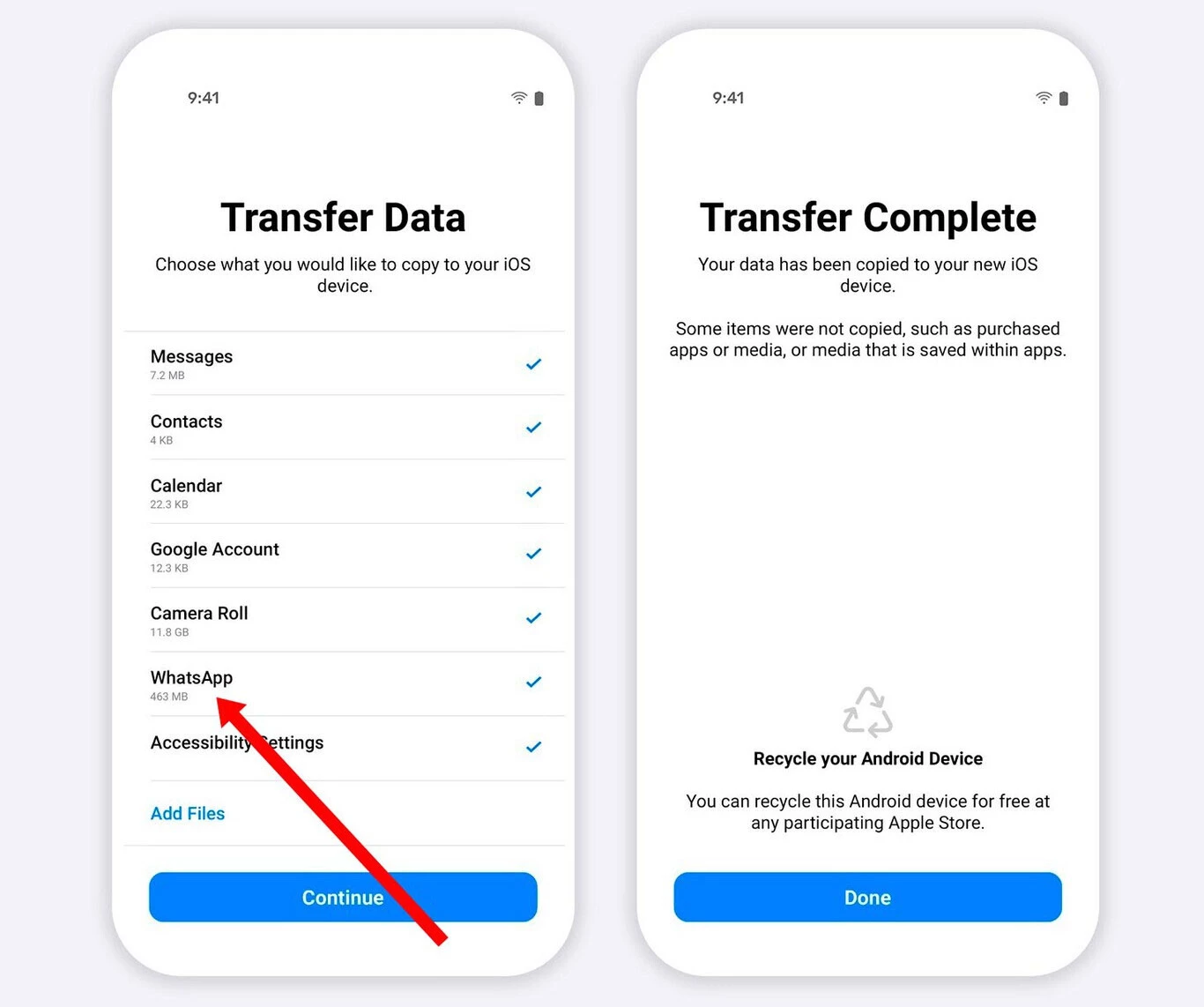 And of course, the other way around we can also do it from now on because WhatsApp has announced that the functionality is now available to everyone. As in the case of Android, we must meet minimum requirements which we detail below:
The Android mobile you come from must have Android 5.0 or higher.
The iPhone that will receive the chats must have iOS 15.5 or higher.
The WhatsApp versions required are the following: 2.22.7.74 on Android and 2.22.10.70 on the iPhone.
The 'Move to iOS' app needs to be installed on Android.
We have to connect both devices to the same WiFi network and that both are charging.
As in the case of Android, the iPhone must be new or else we will have to factory reset it to be able to transfer.
Once we have all this in order, we turn on the 'Go to iOS' app, we are asked for a code that we must extract from the iPhone (the app tells us how to do it). Now we connect the mobiles with the physical cable and we follow the steps that the app tells us to make the transfer. Logically, we must make sure to check the WhatsApp box for your data to travel from our Android to our iPhone.
Once the process is complete and WhatsApp has transferred the data, our session in WhatsApp for Android will be closed forever. Now we only have to install the WhatsApp app for iOS on our iPhone and the chats will be waiting for us.